More important than a rainforest! Protect a valuable local peatland
Ian Coppack explains why this valuable peatland on the southern edge of Macclesfield, Cheshire, should be protected
Are you concerned about the destruction of a this local peatland resource – and if so what can you do about it? Read on!
Cheshire East Council have prepared plans to build nearly 1000 houses on the south edge of Macclesfield between Congleton Road and Leek Road.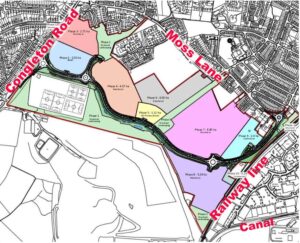 An initial application for roads to service this has been submitted (19/1796M). This reflects a nationwide drive to provide much needed housing. However building on this particular site will destroy not only an important wildlife habitat but most importantly substantial peat deposits. Once the site is damaged all the CO2 that has been captured is released forever – there is no going back.
This short video explains that peat is more effective in capturing carbon than even tropical rainforest – so though it might be nice to have a rainforest behind the Macc Town football ground what lies there is potentially more valuable to our environment!
Because of the importance of peat there are government initiatives to protect and enhance these peat areas. The U.K. currently has 15% of the worlds peat bogs. Not only this but Cheshire East has written an Environment Strategy 2020-24 which claims that the council is a leader in environmental matters. It states specifically that the council will protect peat and the environment.
"enabling land management which conserves and restores soil productivity and improves carbon sequestration."
This project goes against the council's own claims, will destroy a valuable peat resource and also have devastating effects on the wildlife, with further potential impact on the Danes Moss nature reserve bordering it.
What can you do?
Formal comments on the proposal
We have just found that the consultation period, which was originally held over Christmas, has been extended to the 11th February so it is possible to make a formal comment. Click here to make a formal comment. If you would like to download guidance on completing the response click here
Writing the members of the planning board
The council's Strategic Planning Board will meet in March or April 2022 to consider the first stage of planning permission. If you are concerned about this you can write to their members.
Click here for suggested outline letters if you wish to use them
Click here for contact details for the members of the Strategic Planning Board
Many thanks to local environmentalists Gordon Richardson and Ian Coppack from Macc Wild Network who provided this information. They are also working with St. Peter's Community Gardens to produce and promote wildflower seeds.