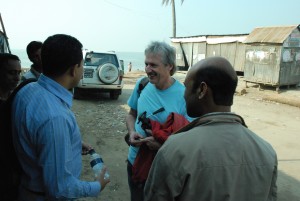 Dr. Terry Gibson
I am a writer and researcher digging into the conundrums and chaos of international development .
Moving on from a career in film-making, during which I covered a million miles on shoots in the Global South, I combined doctoral research at Manchester University with my full time role as Operations Director at GNDR to move out from behind the camera, make some sense of what I'd seen and getting active in trying to do something about it. The Frontline programme at GNDR consulted over 100,000 people in villages, towns and cities round the world and I am continuing to research and write about the revolutionary insights we gained from finding out what is really going on at the Frontline.
My book 'Making Aid Agencies Work' was published in 2019 and you can listen to a discussion about it I had with two colleagues working at local NGOs, here. 
You can read more about 'Making Aid Agencies Work'  here.
I've also recently produced a podcast series on local action and learning, completed co-editing a special issue of the International Journal of Disaster Prevention and Management, researched and written a cookbook on integrated local action for GNDR and co-written an encyclopaedia chapter on civil society roles in disaster reduction . You can see work I've published over the last few years in 'ideas and stuff.'
Why 'inventing futures?' find out here